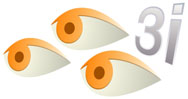 company name   = 3i|
 company type   = Public company (trading lse 3III nyse 3III) |
 company slogan = "Inspiration,Ingenuity, Innovation" |
 foundation     = 1936, by merger of General Pharmaceuticals and Strane Family Holdings |
 key people     = Mr Gary Strane, Chief Executive Officer, Chairman
 Vacant, Chief Financial Officer
Vacant, Chairman of Research and Development

 industry       = Pharmaceutical industry, Mining, Energy, Financial, Technology, Banking.
 revenue        = profit £23.2 billion (2006) |
 net income     = profit £7.8 billion (2006) |
 healthcare products  = Central nervous system, Respiration (physiology), antiviral, antibiotic,
  oncology and emesis, metabolic, cardiovascular, urogenital, over-the-counter medicines, vaccines; 
  recent research into haematological synthetics

3i Incorporated is a Transnational pharmaceutical, biological, and healthcare company, with subsidiary interests in the Financial, Natural Resources, Technological and Energy sectors. 3i healthcare concern is a research-based company with a highly diverse portfolio of pharmaceutical products covering central nervous system (CNS), respiratory, life-prolonging, anti-infective, gastro-intestinal/metabolic, oncology, and vaccines products.
Community content is available under
CC-BY-SA
unless otherwise noted.