This page contains features that are no longer in Hell Rising.
These features were in past versions of the game and has since been removed.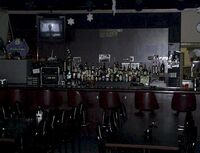 Location:Jarvis Bar Information
Edit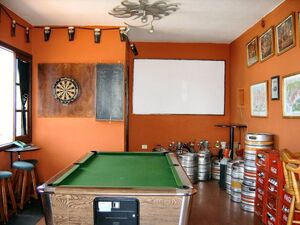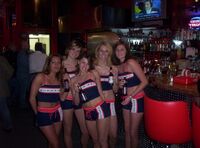 Past History
Edit
Originally, the sports theme was a big hit on game nights, and Jarvis was also a favorite hangout for theater goers from the Hopplin to stop in after the show for a drink. Jarvis saw his his little place hit it's heyday after the Twilight City Trilobites brought home the trophy three years running, but his luck turned with theirs - he bought and installed 6 large screen TV's the same year the Trilobites went into the trash and ticket prices plunged. Compound that with his huge investment in a satellite dish just weeks before cable was installed in Capricorn Village, and you have the recipe for failure.
Jarvis worked hard to keep things afloat, but judging from the condition of the pool tables and bathrooms, if Twilight City hadn't fallen into death when it did, Jarvis Bar would have anyway.
Occasionally, even still, you'll see a few regulars coming around to shoot some pool and drink some beer. The house rule is that if you need a pool cue for a weapon, don't take it from here.
Recent Events
Edit
Wiki Policy - News Section
This following section is dedicated to news related to whatever is in discussion with this article.
Community content is available under
CC-BY-SA
unless otherwise noted.