Map of Sub-Level Z
Edit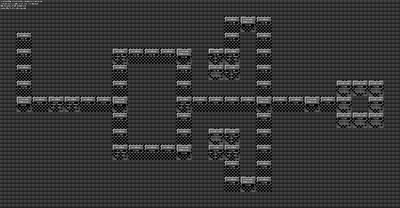 Location
Edit
The entrance to Sub-Level Z is located in Darkridge, inside the Lazarix building at (498, 497).
Vile Serum - heals 10-15 HP (15-20 HP with First Aid skill).

Found by killing Skeletal and Plague Hosts, not (so far) by searching
Has a chance of inflicting Infected on the recipient (observed when healing self, and when healing others)
Is able to remove the effect Bleeding upon use.
Is dropped more often and in larger amounts by Dr. Malignus.
No item can be obtained by searching.
Inhabitants
Edit
Utility Drone - Machine - low damage
Security Drone - Medium damage, more aggressive
Skeletal Hosts - Creature - low health, usually killed in one or two hits
Plague Hosts - Creature - medium health, medium damage, capable of causing infections
Dr. Malignus - Creature - medium health, high defense, high damage (wields Bladed Fingers), very dangerous.
While in Sub-Level Z, the Walkie Talkie will be unable to pick up a signal from the outside world.
A sticky note referring to Dr. Malignus is posted in the Lazarix Building that houses the entrance. It reads, "Dr. M. needs some fresh air. All work an no play, am I right? Invite to Fun Run?"
Humans are unable to Hide, and Vampires cannot Rafter Hang in Sub-Level Z. Zombie can Play Dead.
Community content is available under
CC-BY-SA
unless otherwise noted.