Location:The Bauhaus Building Information
Edit
Location:The Bauhaus Building is situated in Boltside
Suicide is possible from Named Buildings
Past History
Edit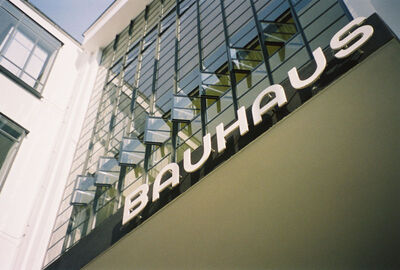 In it's glory days, The Bauhaus Building was an art and architecture school, modelled after the famous school in Germany that operated from 1919 - 1933. The name, function, and architecture of the building are a perfect replica and homage to the original. Interestingly, the history of he buildings seem to be entwined as well.
The original building was shut down by the Nazi party, after the modernist styles taught there were declared "un-German". The school was also rumored to be a front for communists. Twilight City's own Bauhaus building only operated as a school from 1948 - 1956, when it too was forced to close under suspicion of communist sympathies. The building remained abandoned until 1989.
Repeated attempts to demolish the building had been made in the decades since the building closed, and it had been saved by petition and protest each time. In the political turmoil of the 1960s, The Bauhaus Building had been seen as a monument to art, education, and intellect. For hippies, it represented the struggle between power-hungry capitalists and free expression.
Despite the building's supposed value to the community, no attempt to purchase it had been made until the mid 70's. This is likely because hippies have no money, and they're too stupid and lazy to do anything productive. [The objectivity of this statement is disputed] In September of 1974, Till Lindemann, a former hippie turned wealthy businessman, finally bought The Bauhaus Building. It remained closed to the public, but became the site of many private parties. The eclectic Lindemann would invite both his aristocratic and hippie friends to the building on separate occasions. Mysteriously, the upper floors of the building are closely guarded by Lindemann. Not even the closest of his friends have been allowed to see anything but the bottom floor. Many residents of Twilight City suspect that there may be some illegal activity involved, and ever since the undead plague began, the rumors have become more wild.
It was in 1989 that the lowest floor of The Bauhaus Building was re-opened to the public, in the form of a goth club. It had remained that way until the mysterious darkness fell upon the city in 2007. Even in the days before its final closure, The Bauhaus Club was famous for maintaining its old-school goth vibe. Bands like Siouxie and The Banshees, The Sisters of Mercy, and (most of all) Bauhaus represented a large part of the play list. On weekend nights, even when the building appears uninhabited or without power, music can be heard playing from inside. In what might be a sick twist of irony, Bella Lugosi's Dead is frequently heard from The Bauhaus Building's interior.
Recent Events
Edit
Wiki Policy - News Section
This following section is dedicated to news related to whatever is in discussion with this article.
Community content is available under
CC-BY-SA
unless otherwise noted.