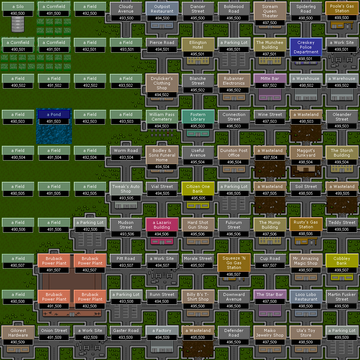 Moldertown
Edit
Moldertown, neighborhood in Serling (click for the map)
Buildings
Edit
The neighborhood includes one four-tiled building.
Two or more tiled buildingsEdit
1 Waste Treatment Plant

Bruback Waste Treatment Plant (491,507; 492,507; 491,508; 492,508)
Important or useful buildings for supplies or basesEdit
1 Electronic Store

Rubanner Electronics (496,502)
3 Hardware Stores

Gilcrest Hardware (490,509)
1 Lazarix Building (494,506)
1 Police Department

Creskey Police Department (498,501)
3 Gas Stations

Poole's Gas Station (499,500)
Rusty's Gas Station (498,506)
Squeeze 'N Go Gas Station (496,507)

2 Gun Shops

Hard Shot Gun Shop (495,506)
Wiley's Gun Shop (491,510)
Tall BuildingsEdit
This neighborhood also has 4 tall buildings which allow for jumping/suicide, and can be used as revive points for players who want to switch race, as it only requires 1 AP to jump, versus the amount AP it could cost for several attempts to kill (and revive, in the case of humans).
Ellington Hotel (495,501)
The Munchee Building (497,501)
The Storch Building (499,504)
The Mump Building (497,506)
Community content is available under
CC-BY-SA
unless otherwise noted.