Power plants are large locations that power the city.
Outside:
The building seems oddly dark... for a power plant, at least.
This section of the building is lit.
Inside:
Silent machinery and dead screens surround the area. A single red back-up light strobes above, warning of the current power outage.
Various blinking lights and scrolling graphs relay information about current power levels. A large map of the city hangs on one wall, a dizzying array of tiny lights dotting its surface.
| Item | Outside | Inside |
| --- | --- | --- |
| | None | None |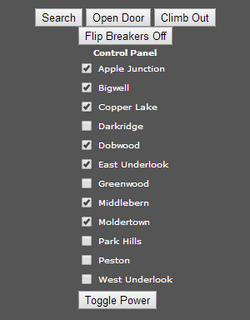 Power plants are able to control the electricity throughout the entire city. Inside the power plant is a control panel that Humans can modify to change the power flow for each neighborhood by checking or unchecking next to their names then clicking the "Toggle Button". It takes 1 AP each to check or uncheck a neighborhood. For Zombies and Vampires, they have a "Turn of Power" option that costs 8 AP to uncheck and shut off any operating power. Flipping the breakers off or on will only change the lights of the power plant itself and has no affect on the control panel.
When there is power, players are able to light up buildings, which can help improve the success of certain functions like searching items and players(hidden vampires are drastically easier to find with the lights on), barricading, and repairing damaged buildings. If there is no power, players must rely on generators to power up their buildings.
In Serling:
In Twilight City:
Community content is available under
CC-BY-SA
unless otherwise noted.