Prisons are locations where dangerous convicts are detained.
In-game description
Edit
Outside:
This section of the building seems dark.
This section of the building is lit.
Outside (Yard):
A pile of half-broken rocks lies to the side of this overgrown yard. Several large holes in the building's surface can be seen from here. Flood lights overhead are unlit.
Inside:
The lights are out.
The lights are on.
Inside (Cafeteria):
A strange, reinforced door marked "Dangerous Convict Transport" has been left open toward the back of the station.
Items found by searching
Edit
Item
Division
Guard Station
Cell Block (Inside)
Yard
Cafeteria (Inside)
Infirmary
Weapons
Ammunition

Boxes of Shotgun Shells (1-2)
Pistol Clip (1-2)

Healing items

Bag of Chips (1-2)
Cans of Vegetables (3-4)
Can of Soda (1-4)

Antibiotics (2-4)
Medkit (1)
Bandages (3-4)

Utilities
Clothes

Security Pass
Security Guard Uniform
Pair of Handcuffs

Prison Jumpsuit
Restraint Mask

Materials & Junk

Pornographic Magazines (2-4)
Structure
Edit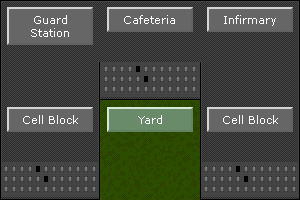 Prisons are split up into six different units:
Guard Station
Cafeteria
Infirmary
Cell Blocks (2)
Yard
Each unit holds different items when searched. Every unit can be walked on outside, but the guard station and infirmary cannot be accessed from adjacent outdoor tiles. Only the cafeteria and cell blocks can be barricaded.
In Serling, the entrance to Sparrow Island is located in Middlebern, inside Wincross Police Department at (509, 512) through the Transport Door. It costs 2 AP to enter or exit. At Sparrow Island, the Transport Door is found inside the cafeteria.
If players or NPCs are outside the cafeteria, players inside the cafeteria will be notified with a message(?) that reads, "???".
List of prisons
Edit
In Serling:
Sparrow Island (504,516), (504,517), (505,516), (505,517), (506,516), (506,517)
Community content is available under
CC-BY-SA
unless otherwise noted.